10 Of The Most Important Accessories for the Bathroom Goddess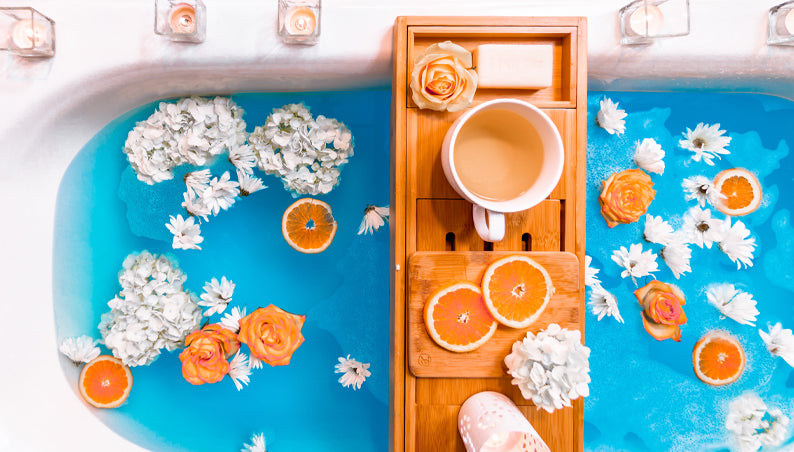 Oh yes!  The bathroom – one of the most essential (and maybe the smallest) room in your home?.
Sure you've got the necessities – a tub, a toilet, tissues and world class makeup, but have you got a bathroom fit for a Queen?  Our mission is to support the smart, gorgeous, multi-tasking super women, people like you and me, who juggle the kids with "being all things to all people" at work or among friends, the ones who manage a healthy home, while planning their next makeover and of course the ones who can care for the planet as well as their busy lives.  So, this is your moment….Take a DEEP breath in and relax as you breathe out. because we've created the ultimate guide of bathroom accessories that are just too good to ignore!
The bathroom should be a place of peace and tranquillity and candles do much to set the mood. Bright lights can overwhelm the senses and keep you alert, whereas firelight is softer and said to be mesmerizing. The flicker of a flame by itself is calming, so combine this with a soothing scent and you'll soon feel half way to heaven!
Looking to save time on your daily routine? Why swap a bath for a shower when you can invest in a hands-free hair dryer to help get you get ready? As ridiculous as these devices may sound, they're actually incredibly useful for styling your hair with two hands! It's just like having the extra pair of hands you always knew you needed…
Goddesses don't 'do' toilet roll holders. Not in this day and age. Instead, they opt for a digital dispenser or something clever and cute like the apple tissue box. The apple tissue box is super quirky looking, made from eco-friendly materials and entirely closed off, meaning you don't have to stress about your toilet paper getting all dusty or germy.
Every bathroom needs a bath matt. Every goddess's bathroom requires a memory foam bath rug. It's just the way it is. No – but in all seriousness – once you step out onto what feels like a luxury foot cushion instead of a flimsy flat matt, you really will never look back!
Bathtub caddy's have this odd ability to make you feel like you're in a 5 star hotel or luxury spa. They encourage you to spend time in the tub – eating, drinking, and watching Netflix… More women need accessories like this in their household to help (and remind) them to unwind!
Many people forget that the skin is the largest organ of the body, but goddesses don't. They take care of their skin each and every day with these ultra lush bath bombs – packed full of completely natural ingredients like Sea Salt, Sweet Almond oil, Witch Hazel and Unrefined Shea Butter. With these big balls of joy, you may not even need to light a candle – the scents are that sensational!
No bathroom vanity is complete without a glamorous Hollywood mirror, complete with LED lights! Not only do they look pretty, they assist you in pampering yourself to perfection – ideal for tweezering your eyebrows or doing your makeup. Somehow these mirrors both reveal and flatter everything! What more could you ask for?
You're halfway there with the caddy, but remember Champagne (or Prosecco) requires a consistent chill to be at its best. And that's where the attachable bottle chiller comes into play, saving the day! With this gizmo you'll be able to lock yourself away, bath-bound for hours at a time… blisssss…
You've got beauty (thanks Pure Sanctum. You're welcome J), now use your brains! We all love to listen to our favourite tunes in the tub but you should never take your electronic devices into the bathroom with you without proper protection. There are loads of chic covers out there to choose from, and some even come with matching waterproof headphones!
There's nothing worse than getting out of a nice warm bath and wrapping yourself up in a cold, damp towel, which is why heated towel rails are without a doubt the way forward. Even if your towels are slightly wet before you enter the tub, they'll be good to go by the time you're out. Morning or night time chills don't ever have to burden you again!
Have you been inspired by these stylish suggestions? What bathroom accessories are top of your wishlist? Share your ideas by tweeting @Pure_Sanctum.