Beautiful Baths in Weird Locations (And Weird Baths in Beautiful Locations!)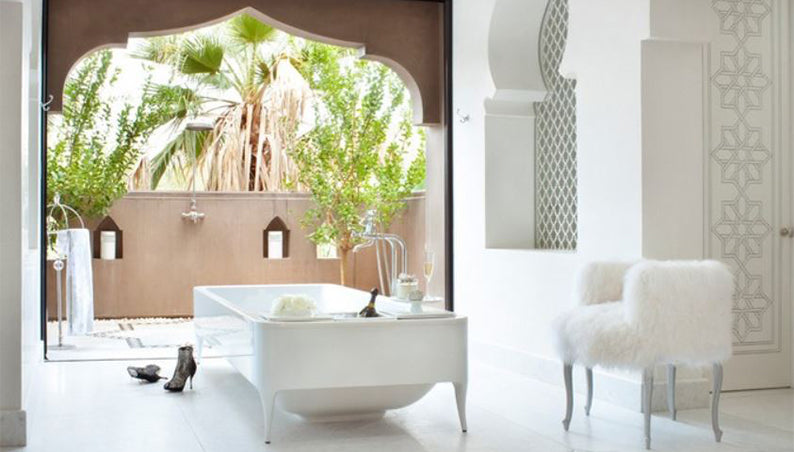 There's nothing like a soothing soak in the bath after a hectic day but if you had the choice, which one of these weird yet wonderful setups would you choose to unwind in?
Al fresco seaside bathtub in the Maldives
https://uk.pinterest.com/pin/276056652136408049/
With such a hot climate, the Maldives is the ideal place for an al fresco tub. Boasting beautiful views and a soft seaside breeze, this would be an incredible place for your skin to soak up all of the natural goodness packed inside our luxe bath bombs and revitalise after long periods in the scorching sun. 
Large sunken tub in an open plan bedroom
https://uk.pinterest.com/pin/48976714668217012/
We all dream of having the mother of Master Suites, but if you ask us open-plan is the way to go. This way you don't have to worry about setting up a separate device to view your favourite TV shows or listen to your chillout playlist – everything's right where you need it!
NASA's toilet bowl at the International Space Station
http://www.popularmechanics.com/home/how-to/g330/18-strangest-bathrooms-in-the-world/ 
A space bathroom doesn't look as exciting as it sounds, does it? That's exactly what we first thought, but you have to admit – it is kinda' fascinating. I'll betcha someone's got the International Space Station on their top 10 list of things to do before…. even if it means using foot straps and pivoting bars to anchor you to the ground!
Aquarium beach-side bathtub in Japan
https://uk.pinterest.com/pin/485614772292700289/
There are some places in Japan that boast beautiful, beach-side bathrooms fitted with wall-high aquariums that'll make you feel as though you're swimming in the ocean, with giant sea turtles for company. Costing anywhere from $200,000 to build and even more to maintain, these bathrooms are rare but oh so amazing!
Martini glass Jacuzzi in Las Vegas
https://uk.pinterest.com/pin/554927985305280501/
Found in honeymoon suites and palazzo style nightclubs, the Martini glass cup Jacuzzi is the ultimate toast to Las Vegas. Totally excessive and why not?  If the roulette table was good to you, anyone could get into the  mood! And who are we to deny your desires?
Treehouse bathtub in the rural countryside
https://uk.pinterest.com/pin/405324035197846249/
The forest is a peaceful place, so any way you can nestle yourself amongst the treetops and enjoy the view is good one. But a bathtub in a treehouse? Well that's got to be the definition of bliss! Grab yourself a pair of binoculars for the birdies and you'll never need Netflix again…
Or if you're totally cool with your own setup, why not Tweet a pic to @Pure_Sanctum and share your reaction to this post!