Netflix and Bath: Top Series to Watch Right Now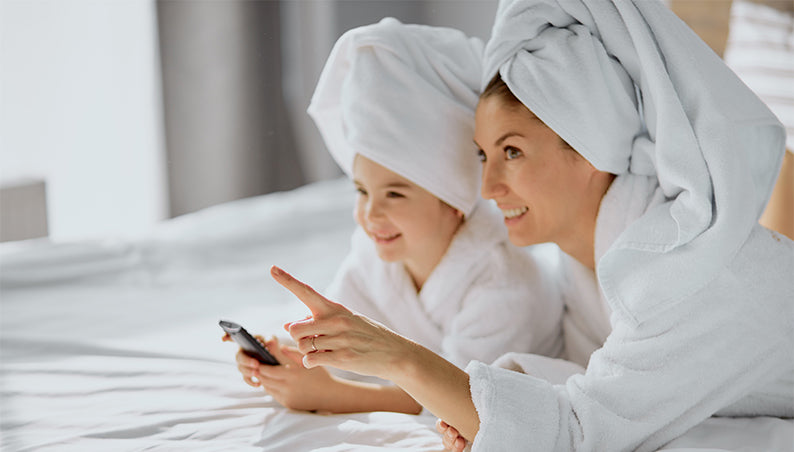 If you know anything about us, you'll know that we are strong advocates of downtime here in the Bath Bakery. 
As hard working women ourselves, we have first-hand experience in feeling burnt out at the end of a long week. We know that in order to be our best selves and do our best work the following week, we must give ourselves time to recover.
From working out at the gym to reading a book – there are many relaxing activities to choose from, but our absolute favourite has got to be lying back in a hot bath with a good Netflix series on, set to binge watch!
Sounds pretty perfect, right? Well if you're here because you are thinking of doing the same but are yet to decide what to watch, be sure to check out some of our suggestions below to save hours of browsing:
8 Awesome Netflix Series to Binge Watch
Orange Is the New Black
Genre: Comedy-drama
Based on Piper Kerman's memoir 'Orange is the New Black: My Year in a Women's Prison (2010)', this Netflix series has received critical acclaim for its captivating flashback structure and unique mix of black humour and dramatic heft. We won't give too much of the story away but prepare to laugh, cry, gasp and cringe – sometimes all at the same time! With 5 seasons and 65 episodes, this one will keep you occupied for hours.
Best Fizzler Match: We think this is a perfect match with our Bombe la la la, Oceans 11 Smells of sun and sea blended with Orange and Pink Rose
Gossip Girl 
Genre: Teen drama 
Scandalous and sexy, yet incredibly easy to view at the same time, Gossip Girl has a solid female fan base that ranges between the ages of 12-40! It's based on the book series of the same name, written by Cecily von Ziegeasar, and follows the privileged lives of upper-class adolescents in Manhattan's Upper East Side. The show kicks off with the return of "it" girl 'Serena van der Woodsen' (who happens to be a ruthless blogger) from a mysterious absence. There's eye candy, fashion and money (lots of money). Oh la la la, indeed!
Best Fizzler Match: This match has to be from our 'sexy' La Bomba range (which was inspired by 50 Shades of Grey) Why not try Raspberry Beret for the sweet scent of Berries and Jasmine
GLOW
Genre: Comedy-drama
This 10-episode series is set in 1980s Los Angeles and created by Jenji Kohan, the woman behind Orange Is the New Black! Starring Alison Brie as an out-of-work actress who finds herself caught up in the female wrestling league, GLOW has diverse casting and taboo-breaking storylines. The music will give you a major throwback, with the soundtrack featuring the likes of "The Warrior" by Scandal, "Under Pressure" by Queen and David Bowie and "Car Wash" by Rose Royce.
Best Fizzler Match: We love the mix of funny but yet deep storylines, which is why we think our set Love Bomb and the fizzler Fatal Attraction is perfect. With calming Cherry, Geranium, Bergamot and Chamomile
Gypsy
Genre: Psychological thriller
If you like psychology, you'll love Gypsy. Oscar-nominated actress Naomi Watts plays Jean Holloway, a therapist who dares to secretly immerse herself in the lives of her patients. This series is a slow-burner, with lots of layers to unravel before the plot is revealed – so admittedly not for action-only fans. B it'll surely hook anyone who can bare a bit of building tension and read between the lines, though! 
Best Fizzler Match: You are going to want something to calm your nerves! Our Bombe la la la set contains the perfect partner - The Big Easy  French Lavender with fresh Lavender buds
Scandal 
Genre: Political thriller 
You want drama? Scandal will give you drama! Starring the beautiful Kerry Washington as Olivia Pope, a former White House Communications Director who starts her own crisis management firm only to reveal her clients are not the only ones with secrets, there's not one episode that'll have you twiddling your thumbs. If you want some girl boss outfit (or attitude) inspiration, look no further! 
Best Fizzler Match: What could be more perfect for a drama box set other than our very own Drama Queen with Champagne Fizz, Plum, Grapefruit and Rose petals! Available in our Love Bomb set – you may even want to grab a glass of something Fizzy with this one!
Jessica Jones
Genre: Action / Detective
This Netflix original was created by genius Melissa Rosenberg and is set in the Marvel Cinematic Universe (better referred to as the MCU), like all films of the franchise. Krysten Ritter stars as Jessica Jones – a former superhero who starts up her own detective agency. Of course, she's not just dealing with your average, everyday crime cases… and some of the hardest battles she faces are from within. Critics have praised the show for its approach to sexuality and deception of darker topics, like PTSD (Post Traumatic Stress Disorder). It walks the line of physiological thriller and action, so for every down, there's somewhat of an up. 
Best Fizzler Match: Jessica is a strong women and we could imagine her loving our Diva Delight fizzler, a cocktail of Chocolate & Fudge, smooth and delicious! You will find it in our Love Bomb set.
Breaking Bad
Genre: Crime drama thriller
This black comedy crime drama series is utterly thrilling from start to finish. Created and produced by Vince Gilligan, the show tells the story of Walter White (played by Bryan Cranston), a struggling high school chemistry teacher diagnosed with inoperable lung cancer who turns to manufacturing and selling methamphetamine in a rush to secure his family's future. The plot is incredible, the actors are amazing – the whole thing is truly mind-blowing. No risk of falling asleep in the tub while this is playing! 
Best Fizzler Match: With this full on drama series you should match it with something fresh, why not try Shoot the Breeze - Chill out, de-stress with this blend of Sage, Mint, Eucalyptus & Ginger. This is just 1 of 6 fizzlers in our Bombe la la la set.
Making a Murderer 
Genre: Documentary
If you haven't seen it, you've heard about it. Making a Murderer absolutely had to make it to our list of top series to watch right now. Filmmakers Moria Demons and Laura Ricciardi spent 10 years following the story of Steven Avery, who spent decades in prison for a crime he didn't commit only to be arrested for the murder of a young woman upon his release. It's gripping TV that's actually impacted both the criminal justice system and the lives of the people involved.
Best Fizzler Match: Ok this is a full on series and therefore you are going to want something a little relaxing to watch with this one! Try La Bomba's, Summer Breeze and drift away on an ocean of Fresh Linen & Cherry Blossom.
And that just about rounds us up for today. With a broad range of genres and endless amount of episodes, there should be something on this list to entertain anyone. The question is: which will you choose?
Tweet your thoughts to @Pure_Sanctum or share this post with a friend using the buttons below. We always love hearing from you.